Green Pest Defense is a locally owned and operated Maine exterminator that believes in doing Pest Control the Right Way. We believe that exterminator services should be affordable, customized and environmentally conscious. If you're tired of the one size fits all pest control services try us and we will work with you to design something specific to your situation.
Our mission is to provide people with the service they want not just a one size fits all approach. If you are tired of other exterminators in Maine not listening to you and your concerns give Green Pest Defense a call.
No job is too big or small and we cover Central to Southern Maine including the Midcoast area. Below you will find a list of some of the towns we cover. If you need an exterminator but don't see your town give us a call and we'll see if we can help!
Michael Zagariello
15:43 17 Nov 20
we've been extremely pleased with the service. 18 months and not a sign of any pests!! Thank you John and Team. Highly Recommended!
Cody Briere
22:11 20 Oct 20
Ian Campbell
16:42 07 Oct 20
John is awesome - super professional and helpful in every way. We very much appreciate his service.
Susan Barker
19:25 22 Sep 20
These folks are awesome....professional, effective, and wonderful to work with. We had a mouse infestation, and Jonathan did not stop with his initial conclusion...he continued to explore possibilities and discovered the true source of the problem. It was unexpected, but his thoroughness really paid off. I highly, highly recommend Green Pest Defense!!
Kristina Gorman
19:35 12 Sep 20
Had a wonderful summer outside bug free!!! Thank you Jonathan Ryder (our tech). He Was very professional and always above and beyond service!!! Look forward to seeing you next year. 😊
Jennifer Boutin
14:57 09 Sep 20
Green Pest is the best. We've used Green Pest for mosquito/ticks, ants and wasps. They promptly respond to calls and emails. They understand the urgency of our pest problems and usually get us in super quick. They show up on time and are very professional. AND, their solutions work! It's been amazing to actually enjoy my yard this summer without being attacked by mosquitoes (especially since we are spending so much time at home because of COVID). They are genuinely nice people who want to help. I've recommended them to all my family and friends!
Judy Martin
16:35 08 Sep 20
Having contracted Lyme disease 3 times in 2 yrs I was skeptical. However, GPD came in early June to spray and we have not had one tick on us. Bravo !!
Amanda Votra
11:51 31 Aug 20
Wendy Elsasser
01:24 20 Aug 20
Aaron answered my call and with photos I took, knew what pest we had. John came out the next day. Very informative, polite, knowledgeable. I felt I was in good hands. He found the cause of our problem, told us what he would do and did it! We are now on a quarterly service.We also asked about another pest we had and he took care of that as well.I highly recommend this company!
Judson Merrill
19:56 19 Aug 20
Responsive and very capable. Our technician, Jonathan, was especially helpful.
Shelby Tripp
18:20 19 Aug 20
David Kjeldsen
10:42 19 Aug 20
Initially I emailed the company that I had a problem. Within 24 hours they responded and the next day a technician showed up to remediate our in-ground wasp swarm. They were expensive but the treatment worked albeit it took about a week before a noticeable difference was apparent. My reluctance to award them 5 stars is there was no follow-up by the staff to check on the success of their treatment and when I emailed them after the treatment about when the wasps population would decline there was no response back. All in all, Green Pest Defense got the job done and I would use them again.
sean mitchell
21:03 18 Aug 20
George Hogan
18:47 18 Aug 20
Low key and extremely professional.
Carolyn Bailey
17:35 18 Aug 20
Very pleasant. Answered all of our questions and concerns in a friendly and knowledgeable manner. Promptly came, and before spraying, explained everything that he would be doing. Totally solved our Carpenter Ant problem, and will be repeating the service every few months at a very reasonable price. This gives us peace of mind was we have always had ants, and were always checking for nests and killing ants inside our cottage.
Christina Wakefield
12:14 18 Aug 20
Daniel Butler
10:16 18 Aug 20
Candace Allain
03:27 18 Aug 20
Great guys, always nice and on time. Treated and the problem was resolved quickly.
Lydia Mott
23:50 17 Aug 20
Have been using another pest control company for about 10 years. They were great before they were bought by or merged with a larger company. I was always informed of the date they scheduled my service and given a time range. Now they do neither. They sometimes email in advance other times they just show up.They switched from every couple of months to maybe 3 times a year.This year they have come once and we are 6+ months into the year. BUT they charge my credit card every month. The technicians used to be very polite, the last technician was just plain rude.I called Green Pest Defense after going finding them on line and they sent Jonathan, a technician, the next day. He was super professional, very thorough and efficient and he was very polite!. He set up new bait stations and removed the old ones and checked the house inside and outside for evidence of pests. So far, I couldn't be happier.
ann liotta
21:22 17 Aug 20
Before I used Green Pest defense mice were everywhere as well as ants and now they are GONE and the service didn't harm wildlife. Great!
Nikole Young
20:56 17 Aug 20
We noticed carpenter ants in our basement so after looking for pest control. We found Green Pest Defense and called them. They answered all my questions. Also it didn't take long for them to arrive to deal with the ants. The gentleman that came was polite and knowledgeable. I would highly recommend them for any pest situation!
Davy Pruzansky
20:45 17 Aug 20
We are very happy with Green Pest Defense. They are extremely professional and do a thorough job. We are so happy to be using a local company opposed to the big Pest company. I like that they are green based company as well.
Stacey Rogers
19:25 17 Aug 20
Marisa Nadeau
19:20 17 Aug 20
Robyn Ball
19:18 17 Aug 20
Excellent and professional service. They were thorough in their approach and explained the process.
Christine Renaud
19:18 17 Aug 20
Jeff Siegel
19:10 17 Aug 20
Barbara Kent Lawrence
19:05 17 Aug 20
Patti Fredette
15:29 05 Aug 20
Epik True
19:15 04 Aug 20
They are very professional, came out quickly to take care of a hornets nest for us. A great company thank you again.
Donald Smith
14:55 18 Jun 20
They answered my call right away and Jonathan came next day. He was courteous and did an excellent job. The treatment applied worked very well. It's been a couple weeks and the aggressive yellow jacket activity around the house has substantially subsided.
Jess ica
20:09 07 Jun 20
This is the best money we've spent on our house so far.
Nicole Nadeau
13:08 04 Jun 20
An update one week after service- AMAZING. I noticed a significant reduction in flying insects and WASPS within a few days of service. By today, I see no wasps hanging around my home looking for a place to make a nest. We are grilling tonight and I feel no anxiety or fear of being outside today!
Germaine Lang
15:05 31 May 20
Green Pest has been awesome. I've been a customer for 4+ years and they have been dependable, courteous and responsive the entire time. I've recommended them to several people who have had the same positive experience.
Jim Bossy
14:24 28 May 20
Been on the yearly plan for 3 years. Jon always does a great job with preventative applications. I rarely see any ants anymore, and when the yellowjackets come in the spring, Aaron is quick to send someone to keep them from nesting. Excellent company!
Nicole Nadeau
13:09 28 May 20
Wonderful service experience! I submitted a request for information and quote yesterday evening and Andrew was in touch with me first thing this morning. The plan options were easy and affordable. I opted for the Complete Home Defense and Tick Treatment. Andrew scheduled services to be performed within 24 hours, which is such a blessing as my yard is overrun with wasps! Much to my delight, the service tech, Jon, called at 3 PM today and offered to come out today. I gratefully took him up on the offer. Jon is great - very professional and knowledgeable. He quickly got started on treatments and let me know when he was done. I cannot wait to enjoy the results and reclaim my backyard without fear of stinging insects.
Risa Dennison
12:25 28 May 20
These folks are great. We had an ant issue inside and outside of the house. Their treatments took care of that very quickly. Then we had mice in the house (mostly my fault for feeding the birds), they set traps and took care of that. AND...they sprayed the eves of the house for wasps and hornets and took care of that. I highly recommend this company! Always pleasant and friendly when at the house too!
Bob Johnson
00:20 28 May 20
Autumn Fraser
01:36 27 May 20
Green Pest Defense has been my pest control for 3 years. If I have a concern, they come right out and take care of it.I highly recommend them
Matthew Piette
16:07 26 May 20
After calling Green Pest defense to deal with a nasty early February hornet infestation, I signed up for their quarterly protection plan, as well as twice annual tick spraying service. They are always on time, and the one time I had to call about an issue between cycles of the plan, they came over and dealt with it quickly and with no hassle. I would not hesitate to recommend them.
Charles Jacobs
13:42 26 May 20
Very pleasant, professional. Most important, no pests!
Nicola Salvati
10:29 26 May 20
Came when called ,friendly and professional. Explained everything and their products worked very well . I would recommend to anyone with insect problems.
Lynn Robbins
23:12 24 May 20
Bill and Kathy Portner
23:08 24 May 20
Douglas Perry
22:07 24 May 20
Please contact my son Nick Perry at713-0277 for a quote
Lucinda Hannon
13:51 24 May 20
Servicing Central Maine, Southern Maine and Midcoast Maine
Our service area includes, but is not limited to, the following cities and towns in Maine. If you're unsure whether you are located in our service area feel free to contact us.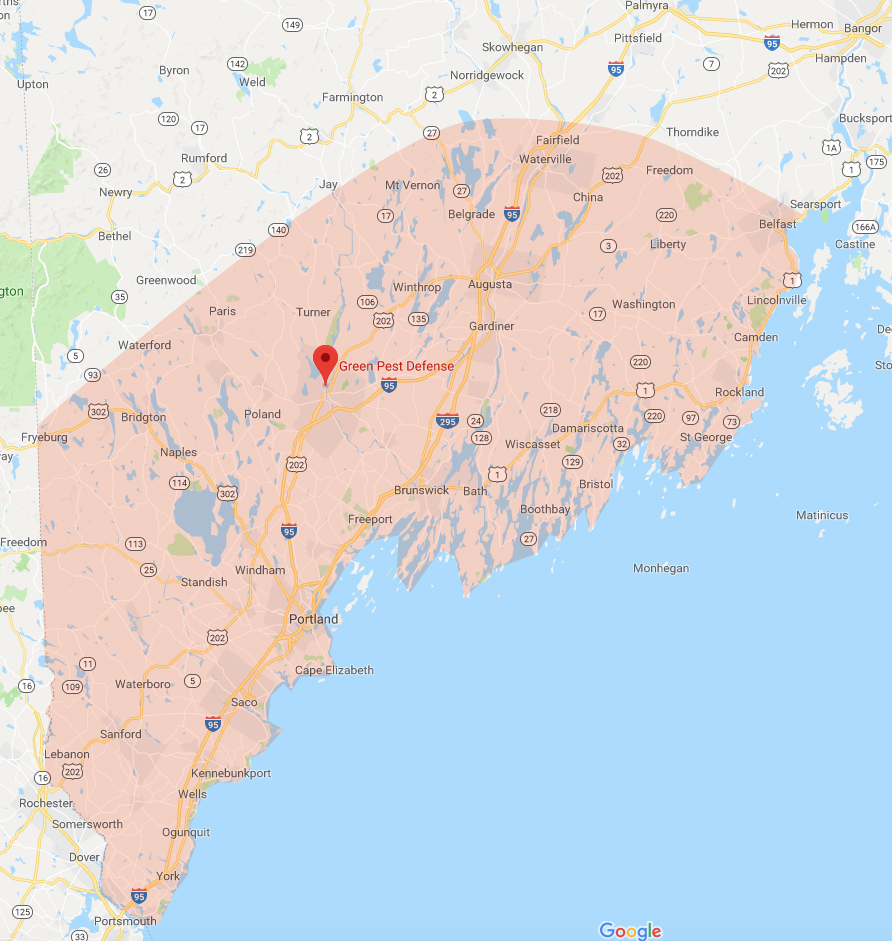 Service Area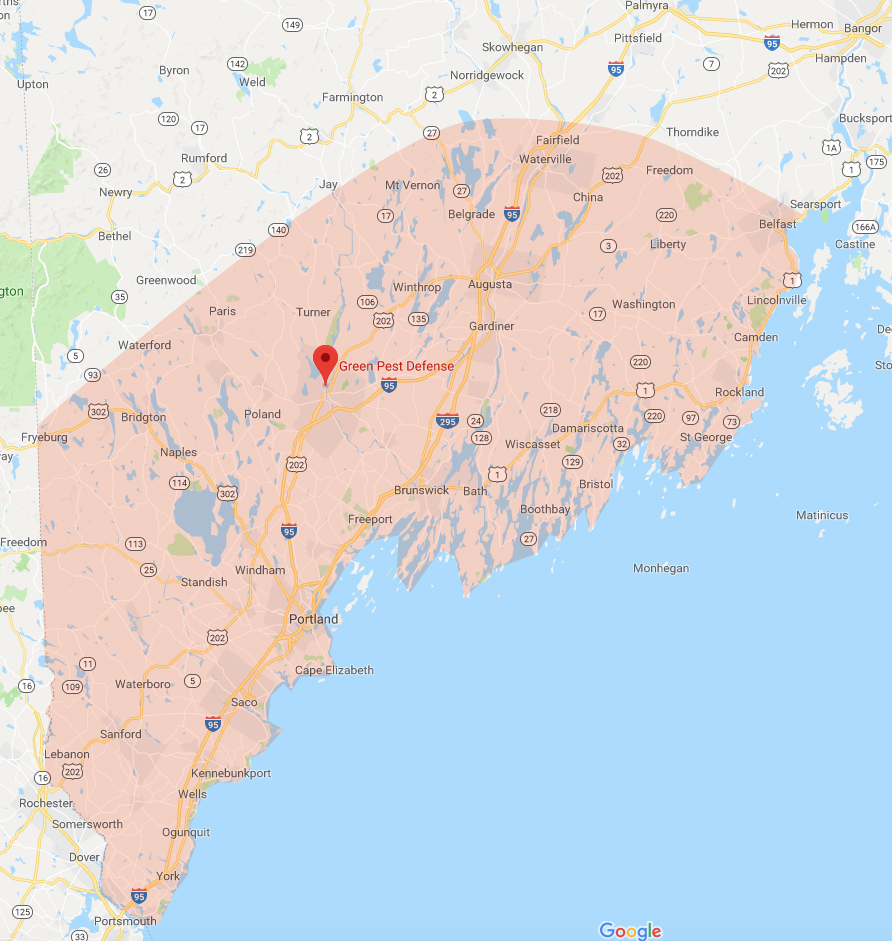 Servicing Central Maine, Southern Maine and Midcoast Maine
Our service area includes, but is not limited to, the following cities and towns in Maine. If you're unsure whether you are located in our service area feel free to contact us.
Testimonials